Against against disputing definitions
Disputing definitions is thought to be a faux pas – at least by rationalists. Nowadays I can think of at least three different aspects to disputing definitions that are not an obvious faux pas. Some arguments about definitions are silly anyway – but much less often than I used to think.
Ontological remodeling
First, an argument about definitions can be an earnest attempt to figure out what your own ontology should be, where "ontology" roughly means "what things do you treat as existing things". E. g. for some people "introvert" is a meaningful thing that exists, and for other people "introvert" is a bunch of traits that kinda correlate, but they never explicitly think about people "being" introverts.
The question of "what ontology should I adopt?" is hard to think about clearly, especially if:
you lack an explicit understanding of how exactly ontologies can be useful, and
you don't yet know how to switch between ontologies without strongly committing to them.
So, instead of a discussion you engage in a play fight.
Play fights work because you have to actually defend your worldview instead of merely talking about it. Sure, you might not get anywhere during the fight itself, and it might look silly to the outsiders; the real process of figuring things out will commence after the fight, e. g. by looking at all the things you have committed to and realizing that some of them are dumb. (Without committing to anything, it might take you much longer to realize which of the potential commitments would have been dumb – if you manage to do it at all.)
If you only see the value of "objective truths" and not ontologies/paradigms/worldviews, it doesn't make sense. But otherwise it should.
Defending formal systems
Second, an argument about definitions can be an attack: "fuck you for not following formal systems". This is where the cursed dictionary comes in – it specifies the formal system people are "supposed" to follow. This is also where people start searching for inconsistencies in each other's arguments: "you're saying you have a different formal system, but I don't believe you, and if I can prove it's not consistent, your claim is bunk and you're a liar".
If you feel that formal systems are great and thinking inside formal systems is an essential skill, it might make sense to attack people who try to hurt your cause by disregarding formal systems. Cf. STEM-inclined people hating postmodernists. However, I think that out of the three arguments in favor of disputing definitions, this is the worst one.
(An aside: some people also rely on the authority of "official" formal system makers, and denying that authority is perceived as "I want to watch the world burn". I don't have much to say about it yet, but it probably also makes sense.)
Attacking hostile ontologies / defending your own ontologies
Third, an argument about definitions can be a different sort of attack: "I understand what ontology you are operating within, I just think it supports %bad paradigms% that lead to %bad things%, and I would like nothing more than for this ontology to disappear". Is abortion murder?
In general, a lot of paradigms rely on drawing sharp distinctions between A and B. "There is actually no sharp distinction between A and B" can be used to shut down a discussion about A and B – and it's very keenly felt by both sides. An example: a lot of anti-homosexuality people rely on homosexuality being a thing – it's easier to wage a war on identity ("gay") than on a practice (gay sex). But a lot of pro-homosexuality people also rely on homosexauality being a thing!
The result is a curious phenomenon of biphobia, where both sides are discriminating heavily against bisexuals – who don't fit into the ontology, and thus undermine paradigms based on this ontology. What happens next is bisexual erasure, where both sides literally claim bisexuality is not a thing. You'd think the LGBT community is the last place where bisexuals would be discriminated against, but – no.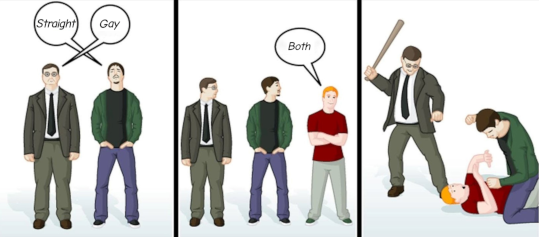 The same plays out with #NotAllMen and #YesAllWomen. If you want to talk about patriarchy, it's not enough to observe that "men seem to have more power" – it ties you down, heavily. You can only say "we need to dismantle patriarchy" within an ontology where patriarchy exists, and otherwise you are limited to "we need the power to be more equally distributed". Discussions, theories, hypotheses, thoughts within this ontology are very different from the ones outside of this ontology, even if both sides agree on the facts.
(Note: I'm not expressing any opinion on patriarchy one way or the other.)
At this point some rationalists claim: "Yeah, but since the distinctions aren't as sharp as you say they are, you are wrong. More truth = better". The unseen assumption here is that locally optimizing for maximum precision will also strategically maximize the amount of truth you find. I think it's a wrong assumption.
So, at worst arguments about definitions are attacks on hostile ontologies – and this is only silly if you think ontologies can't be hostile.
At best, they are defenses of your own ontology – "Hey, your proposed ontology is more precise, but less amenable to analysis. In other words, you are trying to erase concepts that we are relying on to think. No thanks".
Further reading
Does Race Exist? Does Culture? provides a very catchy, very easy to grasp introduction to nebulosity, which is essential to believing that you are allowed to play with ontologies. Using "culture" as an example of a nebulous concept works great:
you can't say how many cultures there are,
two people from the same culture might be more different than two people from different cultures,
there is nothing about a culture that applies to all members of this culture,
and yet we can talk about cultures as Things That Exist and even get something useful out of it.
A bridge to meta-rationality vs. civilizational collapse, by David Chapman, goes deeper regarding the defense of formal systems – and quite a bit more strongly than I am willing to:
Deconstructive postmodernism, their critique of stage 4 modernism/systematicity/rationality, is the basis of the contemporary university humanities curriculum. This is a disaster. The critique is largely correct; but, as Kegan observed, to teach it to young adults is harmful.
Ontological remodeling, also by Chapman, is helpful for understanding the concept of ontologies, but not as helpful as I would like. Kuhn's The Structure of Scientific Revolution is somewhat better. Reading the whole of Chapman's Meaningness is a good thing to do after reading Kuhn, though.